Prevent the Spread of COVID-19
All persons entering Rice Medical Center and Clinics are being asked to come with their own masks, whether homemade or purchased
This is an effort to conserve PPE's for the healthcare providers and people on the front lines
In the media section below are some helpful links on how to make masks at home.
Message from the CEO
The coronavirus has many of us taking new precautions and we at Rice Medical Center, Rice Medical Associates and Lighthouse are no different.  In fact we are involved on a federal, state and local level coordinating our preparedness to best protect the citizens of the Rice Hospital District and our surrounding service area.  Knowing this situation is continually changing, I would like you to keep in mind some things you may not know:
Current guidelines direct anyone who suspects they may have the virus or has been in contact with someone with the virus, but are not severely ill, to self-quarantine.
If you believe you need to see a physician and are not severely ill, call your physician.  Staff will speak with you and help insure you are receiving the appropriate directions.
We have utilized telemedicine for over seven years to successfully treat patients as far as over 400 miles away.  We now have technology which allows us to conduct telemedicine encounters with anyone, anywhere, as long as they have a video capable cell phone and an email address.  This means you can rest assured the provider is making the best determination about your healthcare without you having to leave your home. 
Telemedicine is not indicated for all types of health care, but for this current pandemic, it could help you secure quality health care without leaving home.
If you have questions, please feel free to contact RMC or RMA for guidance.  Together we will get through this.
Jim Janek
Stressed and Overwhelmed with Covid-19? We now have a CONFIDENTIAL support line to help you! 979-234-5571 (option 1)
Rice Medical Center-Lighthouse has established a support line to help. We realize that many in our community are becoming overwhelmed with stress, worry, and fear. In an effort to help the community cope and endure these emotionally challenging times, the Lighthouse has a new support line. If you or someone you know is overwhelmed and struggling to cope due to feelings of loneliness, stress, nervousness, or sadness related to the Covid-19 pandemic, you are not alone! Rice Medical Center, Rice Medical Associates, and Lighthouse are here for you. If you wish to talk to one of our support staff, please call 979-234-5571 (option 1), our staff is ready and happy to listen.
Please note the following limitations:
Unable to provide medical or health information we advise you to refer to a healthcare provider, or call 911 in an emergency.

Unable to provide mental health or counseling. The support line can only address matters related to stress, nervousness, sadness, and significant feelings of loneliness.  

Mental health counseling can be arranged with one of our licensed therapist through telemedicine if needed.

Hours of Operation Monday -Thursday 9:00 AM to 5:00 PM, Friday 9:00 AM-11:00 AM.
Our lines are open and our staff is ready to support you! We can and will get through these times together. You are not alone, we are here for you!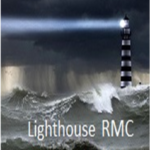 Contacts:
Vice President of Business Development – Tyara C. Barge tbarge@ricemedicalcenter.net
Director of Behavioral Health Services – Amanda Vail avail1@ricemendicalcenter.net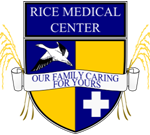 We at RMC, RMA and Lighthouse are monitoring the ever-changing CDC guidelines daily.  There is no vaccine or specific treatment for the COVID-19 virus.  Having said that,
If you are experiencing mild flu/cold like symptoms (cough, fever, achiness, vomiting or diarrhea) you should self –isolate and monitor yourself at home.  You can take Tylenol for fever, rest and drink plenty of fluids.  If you are experiencing more severe symptoms like:
Difficulty breathing
Persistent pain or pressure in the chest
New confusion or inability to arouse
Bluish lips, face or nailbeds
You should go to the nearest Emergency Room.
Stopping the spread of the virus is very important and the new recommendations state that social isolation, (avoiding large crowds) is one of the best ways to decrease the spread.  The new recommendation is avoiding crowds where there will be more than 10 people.  Other ways to stop the spread of this virus include:
Wash your hands for 20seconds with soap and water frequently
Using alcohol sanitizer if soap and water not available (60% alcohol)
Cover your cough or sneeze with tissue, then throw the tissue in the trash
If you don't have a tissue, cough into your elbow
Avoid touching your eyes, nose or mouth
Avoid close contact with people that are sick
Stay home when you are sick, except to get medical care
Clean and disinfect frequently touched objects and surfaces
RMC, RMA and the Lighthouse welcome your questions anytime.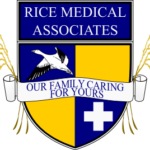 If you need to contact Rice Medical Center or the Lighthouse call 979-234-5571.  If you need to speak with someone at Rice Medical Associates call 979-234-2551 for Eagle Lake, and 979-335-4433 for East Bernard.